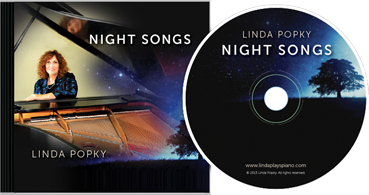 Most parents have to hound their kids to practice a musical instrument. Not mine. Their problem was getting me to stop practicing when it was time to go to bed.
Music has been an ongoing avocation throughout my life, but early on I realized it was unlikely to be a profitable profession. I studied classical piano through college, fitting in most of the coursework for a music theory degree while completing my bachelor's degree in communications.
Life intervened—marriage, a child, a successful career in technology marketing. Ten years ago, I returned to serious study of the piano—about the same time I began a new career as a strategic marketing consultant.
While my playing has been captured on various recordings throughout the years, this is the first recording that is devoted exclusively to my own piano performance. It's something I've always wanted to do but kept putting off.
This year, 2013, is the tenth anniversary of the launch of my business, Leverage2Market Associates. I decided to create the recording as a special memento to send to friends, colleagues and clients. But 2013 also marks the twentieth anniversary of my daughter Ilana's diagnosis at age two with type 1 insulin-dependent diabetes.
Two decades ago, the outlook for kids with type 1 diabetes was fairly dire. We were told that within 15-20 years, there was at least a 1 in 2 probability that Ilana could suffer severe complications of diabetes, including problems with her kidneys, vision, and peripheral arteries. Today, we still don't have a cure for this disease that impacts the more than 2 million people with type 1 diabetes, but the medical advances have been consistent and persistent and Ilana remains healthy and strong. With today's new insulins, glucose meters, insulin pumps and continuous glucose monitoring systems, the rate of complications has dropped to single digits.
In celebration of twenty years of living with and beating back this disease, I am making this recording available to anyone who makes a donation of $20 or more to JDRF, the Juvenile Diabetes Research Foundation. Your contribution will help us continue the progress to finding a cure for this devastating disease. Donate now!